With the holiday season comes many distractions for your employees. This is the time even for the best employees to become DISTRACTED. Between decoration, shopping and many more distracting elements of holidays, it's no surprise that your employees are less than focused on work.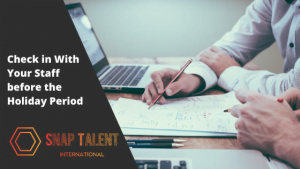 The biggest challenge in front of a manager or an employer during this holiday season is to keep their employees motivated now and into the New Year. It is important to check-in and set their spirit high for success and encourage them to finish the year strong.
What's an Employer to Do?
Go over your year-end goals– It's crucial to evaluate the year-end goals before the holiday season begins. Hold a meeting with your employees to discuss what they are doing to meet their preset goals for the year.
Be an example – If you are lax during this time – chances are your employee opt to follow the suit. If your attitude is relaxed, your employee's with take your lead and may slack off. Work hard and stay focused on your end-of-year goals and be an example for your employee's to follow.
Reflect on – Take time out from your busy schedule to recognise the good things you, your organisation and your employees have achieved during this year. Focus on great contributions of some of your employee's, when your business was in great need of that extra help and share your sentiments with your staff. Thank each and every employee for whatever they did for the company. Manager's word of appreciation goes a long way keeping the staff motivated during stressful and hurried times.
Flexibility – You need to understand that your employees will have distraction during this holiday season. As a manager, you need to provide some flexibility so that they remain focused on the work when they are in the office. Provide them flexible hours for working and keep them refreshed and motivated during the whole season.
However, these methods will help maintain high productivity during the holiday period but do keep in mind that realistically you will experience some drop in worker output. And if this happens, grab a few holiday cookies, take a sip of your favourite beverage, smile and exclaim, "Tis the Season to be jolly."